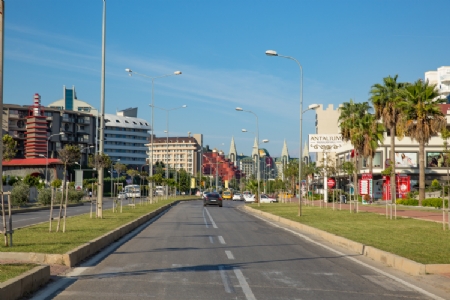 Antalya Lara Holiday Guide
Lara
What we nowadays call Lara is actually called Lara Beach. It concerns the beach east of Antalya. This used to be a fairly frequented public beach, which has hardly been built on for a long time. When tourism in Antalya boomed, people started to expand here at one point. If you look at the map you will see that Lara is actually a kind of suburb of Antalya. This is the place where the majority of tourists seek refuge in mainly huge hotels. The advantage of Lara is that you have a good base from which to see and do everything in the area, while staying outside of the sometimes hectic hustle and bustle of Antalya.
Tourist district without soul
In fact, in Lara you will find almost only large hotels that almost without exception fall into the five-star category. These luxury resorts provide vacationers with virtually everything they need. As a result, there is hardly any need for restaurants, bars or supermarkets in Lara. In Lara you will not find any pleasant streets where you can observe the locals while enjoying a glass of local wine or Efes beer. Lara has no city center or center. You cannot actually speak of an independent city.
Well this intro about Lara seems negative, but it is not meant to be. We just want to be honest about what to expect. And no soul doesn't mean it's not a great vacation spot. If you want to enjoy a good (all-inclusive) resort, beach, swimming pools and good weather at many times, Lara is fine!
What do you find in Lara? Besides the hotels that are mainly located directly on the beach, you will see a number of shopping centers. These commercial meeting places are fully equipped for tourists. You can buy holiday essentials such as anti-sun cream, air mattresses and swimwear here. In addition, you can mainly go here for souvenirs, the majority of which can be classified under the 'meuk' category. Most of the turnover is made with copies of major (fashion) brands. Here you can buy RayBan sunglasses, Louis Vuitton bags and Armani clothing for next to nothing. For people who normally cannot afford these expensive brands or do not want to spend the money shopping in Lara is fantastic. If you negotiate a little well, you can buy fake clothes for sometimes only a tenth of what you normally pay for it.
Anyone who walks in the sweltering heat in Lara and wonders why on earth they have shops here that are fully specialized in fur, should know that Russians like to buy fur coats, fur boots and fur accessories in Turkey and Greece. The demand is high enough to have several such stores in Lara.
Please note that there are not shops in all of Lara. The shopping centers are mainly concentrated in the central part of the main road through Lara. It starts just about from Titanic Resort and Miracle Resort and continues in an easterly direction. At the hotels in the far east of Lara there is almost nothing to see outside the resorts.
Striking buildings

When you visit Lara you will see that nothing is too crazy to give the hotels a striking appearance. Some hotels are so over the top that the urge to give a luxurious look has completely gone. This creates an architectural form that cannot be described otherwise than oriental kitsch. During the day these buildings are notable for their many decorations, turrets, colors and gold accents. As soon as the sun has set, these buildings stand out because of the abundantly present lighting. Whether you like this architectural style is a personal taste. We have a kind of love / hate relationship with it.
Beach
Lara beach is called Lara Beach.The beach starts about ten kilometers from Kaleiçi (Antalya's old town) and stretches for miles to the east.The total length of Lara beach is approximately ten kilometers.There are no hotels along the first few kilometers of the beach (from the western side).Here you will find several beach clubs, but also a long stretch of public beach where you can rent sunbeds and umbrellas in some places.You can also often buy snacks and drinks here.
About halfway down the beach suddenly the row of hotels begins. This stretch starts at the Barut Lara hotel and ends at the Aksu river, where the luxurious Mardan Palace hotel is located. Along the long strip of hotels, there are only a few places where you can hit the beach without having to walk across hotel grounds. Along this stretch of the beach, almost all amenities are reserved for the guests of the hotel next door.
Lara beach mainly consists of darker sand. The water is a darker blue, but not bright blue like you sometimes see elsewhere on the Turkish coast. You hardly see palm trees or other vegetation on the beach ointment. Lara Beach is a so-called "Blue Flag Beach".
Airport transfer prices differs from company to company. As Number One Transfer family, we offer you solutions with affordable prices. Here are the popular transfer routes and their prices:
* Antalya Airport Alanya Transfer: £ 20
Please click here to see our full price list and make a reservation.